IBA Symposium
Monday 7 June 13:00 UTC / GMT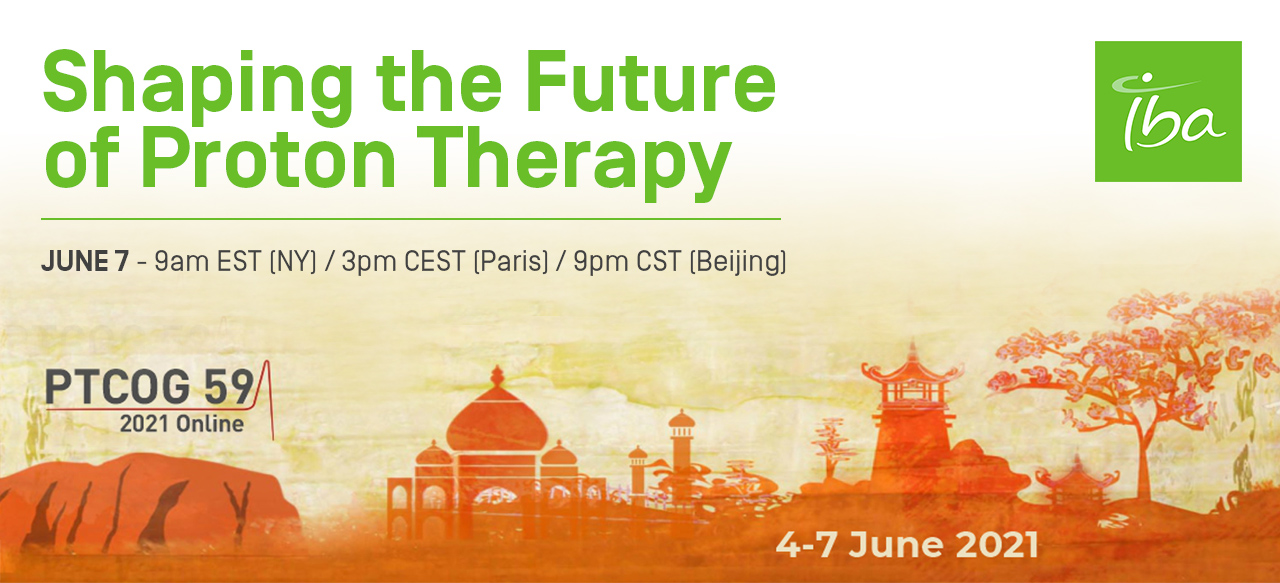 A live public stream of Iba's symposium will be available here on Monday 7 June 1:00pm UTC. Registered delegates are advised to watch within the Online Meeting Platform to access the full range of services.
Shaping the Future of Proton Therapy
Together with its clinical partners, IBA is shaping the future of Proton Therapy.
Would you like to get the latest update on DynamicARC® and ConformalFLASH® Proton therapy?
IBA invites you to a symposium with leading experts in Proton Therapy. Prof. Langendijk & Prof. Both from the UMCG Proton Therapy Center (The Netherlands) will share recent research on Dynamic ARC Therapy. Prof. Jim Metz from Penn Medicine (USA) will present the latest developments with Conformal FLASH Proton Radiation. Feel free to interact with the presenters during a live panel discussion. We are looking forward to meeting you virtually!
Symposium Program

Shaping the Future of Proton Therapy - Introduction

Jeroen Cammeraat - Chief Commercial Officer, IBA


Towards Clinical Introduction of Dynamic ARC Therapy
Prof. Hans Langendijk - UMC Groningen
Prof. Stefan Both - UMC Groningen

Latest developments with Conformal FLASH Proton Radiation

Dr. James Metz – PENN Medicine, USA
Prof. Hans Langendijk
Professor Hans Langendijk is a graduate of the Free University School of Medicine Amsterdam in 1989. He received his residence training in Radiation Oncology in the Radiotherapeutic Institute in Heerlen and Maastricht (currently MAASTRO), which he completed in 1997. In 2000, The University of Maastricht awarded him his PhD on the thesis "Quality of Life in Non-small Cell Lung Cancer". From 1997 to 2004, he worked at the Department of Radiation Oncology of the VU University Medical Center. During that period, he became specialised in head and neck radiation oncology. Since October 2004, he is professor and chair of the Department of Radiation Oncology of the University Medical Center Groningen. His special interests are head and neck oncology, prediction, prevention and treatment of radiation-induced side effects and methodologies to develop and validate new radiation techniques, such as proton therapy. Since 2016, he is the chair of the UMC Groningen Comprehensive Cancer Center. Hans Langendijk was the former chair of the EORTC Head and Neck Group and co-chair of the Head and Neck Subcommittee of the EORTC Radiation Oncology Group. He is also initiator and coordinator of numerous clinical (multicenter) trials. He is (co-) author of more than 400 papers and book chapters especially on head and neck oncology, radiation-induced side effects and proton therapy. He was the first chair of the Dutch Platform for Proton Therapy and is currently the workpackage leader within the Euopean Proton Therapy Network (EPTN). In this position, he realizes national and international networks to create prospective data registries. In 2020, he has been elected as chair of the Netherlands Society for Radiation Oncology (NVRO) He has been the founder of the model-based approach, which is currently used in the Netherlands, providing an evidence-based methodology to select patients for protons therapy, which has been approved by the national health care authorities
Prof. Stefan Both
Stefan Both received his PhD degree from the Babes-Bolyai University in 2005. His Physicist career started at the Kiricuta Oncology Institute, Romania, in 1996. He immigrated to US in 2000 and worked in private and academic radiation oncology. In 2008, Dr Both became a faculty at the University of Pennsylvania, where he was able to advance treatment programs in conventional radiotherapy, establish and lead the physics residency program, and spearhead technical advances, including proton therapy. In 2015, he joined Memorial Sloan-Kettering Cancer Center as an Associate Attending and Lead Physicist. Since September 2017, he is the professor and head of the Medical Physics in the Department of Radiation Oncology of the University Medical Center Groningen, and as of September 2020 also the Scientific Leader of the Particle Therapy Research Center. He has served on committees in the American Association of Physicists in Medicine, and the Particle Therapy Co-Operative Group and European Society for Therapeutic Radiology and Oncology . He is board certified by the American Board of Radiology in Therapeutic Radiological Physics and a Fellow of the American Association of Physicists in Medicine. At UMCG his main focus is Proton Therapy and his research interest is related to treatment planning and adaptive radiotherapy. Dr. James Metz James M. Metz, MD serves as the Chair and Henry K Pancoast Professor of Radiation Oncology for the Perelman School of Medicine at the University of Pennsylvania. He has overseen the development and operations of the Roberts Proton Therapy Center at the University of Pennsylvania, which is the largest and most advanced proton center in the world for cancer treatment. He has been instrumental in developing new technology for the delivery of proton therapy to cancer patients and an international leader in the field. He has led the integration of new and novel technologies for patient treatment for a variety of cancers. Dr. Metz is also Executive Director of OncoLink (www.oncolink.upenn.edu), the award winning Internet resource from the University of Pennsylvania that was founded in 1994. Dr Metz leads OncoLink's mission to help cancer patients, families, health care professionals, and the general public find accurate cancer-related information online. Dr Metz specializes in the use of proton and conventional radiation for the treatment of gastrointestinal malignancies. His favorite days at work are taking care of his cancer patients, from which he learns more about life than anything else.